Last year, when we crafted Voyager's strategic plan for 2023, we had a clear path for our platform's evolution: Using automation & data to help our customers improve operational performance while reducing potential costs through demurrage insights.
We understand that demurrage is a prevailing efficiency and cost bottleneck in most bulk chartering operations. And through continuous improvement of our Demurrage Module, we're still committed to empowering our customers to tackle this issue.
That's why our team is excited to share the recent product updates we've been working on since the beginning of the year, and provide a glimpse into what's next on our roadmap to make our platform more user-friendly and efficient for our end users as we transition into the second half of 2023:
Automatic Laytime Calculation
One of the most-complicated and stressful parts of the claims process – yet arguably the most important – is applying the correct deductions to the laytime calculation, by following CP contracts. There are hundreds of contracts, and contract language can be confusing.
Voyager's calculator automatically recognizes various events in both digital and handwritten SoFs, using your contract clauses to apply deductions whenever it needs to. This unlocks both time and potential for demurrage managers and analysts, ensuring they aren't missing critical, cash-saving deductions.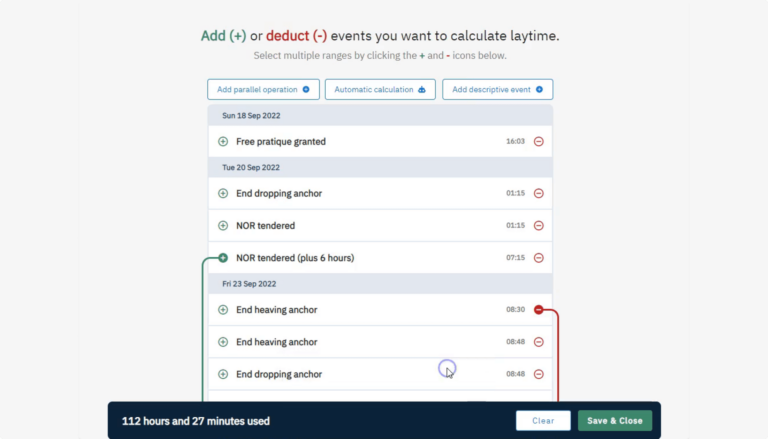 Improvements to the SoF Parser
One of Voyager's unique differentiators is our AI powered SoF parser that recognizes key events from PDFs. As always, we continue sharpening the machine learning capabilities of our parser, and in the past quarter the parser's accuracy was observed to increase by around ~10%, allowing Statement of Facts documents to be validated significantly easier and faster. 
Smarter Demurrage Allocation
Voyager's goal is to reduce the amount of time our users spend in the difficult demurrage calculation process. And we know that voyages with multiple cargoes can be especially complicated and time-consuming, as users often make the same calculation multiple times based on the same SoF.
That's why now our demurrage allocation feature allows analysts to create multiple claims with one single click, allowing you to manage and create claims across various projects, suppliers and/or receivers.
In an effort to expand our system's applicability, we've also enhanced our API to relay key data to other platforms, such as Veson, SAP TMS, Oracle and any other ERPs with a public API. This means data is always updated in real time, increasing visibility process automation and collaboration.
Besides a few quick fixes like:
Including

multiple demurrage rates for breakbulk

, allowing for additional contractual types;

Updating the data dictionary

, adding more frequently-occurring industry events;

Adding the

Bulk date/time update feature in the SoF event validator,

reducing the time spent validating durations and timestamps;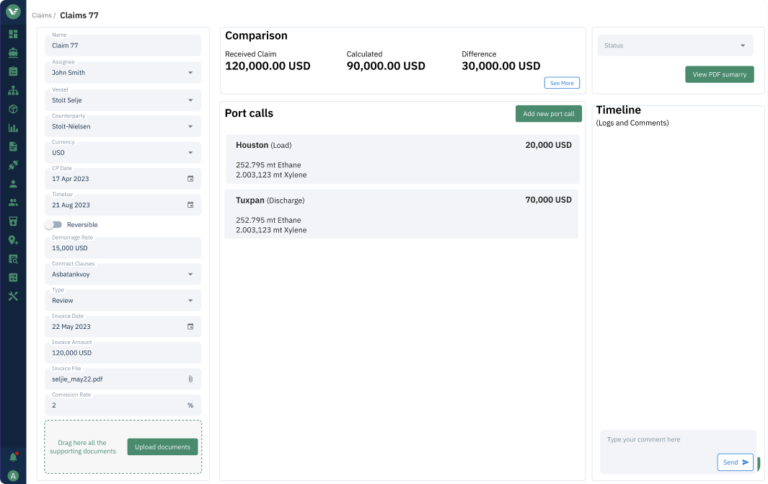 After multiple customer feedback sessions, our team has come to understand that our next development sprint should be around enhancing Voyager's UI and UX capabilities. That's why we're working on upgrading our Claims Management Module in order to simplify our users' experience across the platform.
The new-look claims module will allow demurrage analysts to quickly navigate across claims and rebills, while maintaining our key value proposition of promoting deep, data-driven insights, connecting all the demurrage features in one spot.
We're very excited for this release later in the second half of 2023, and over the next few months keep an eye out for more updates on the Demurrage Module such as fully-customizable demurrage reports, detailed comparison across multiple SoF sources (agent, terminal, surveyor), and enhanced functionalities for barging demurrage calculations.